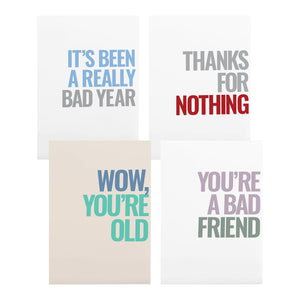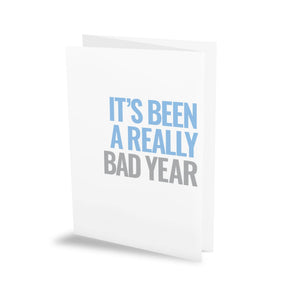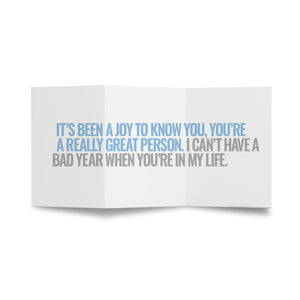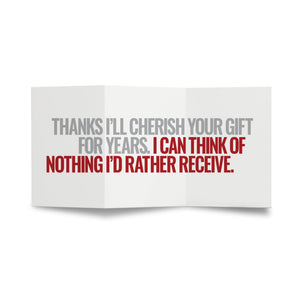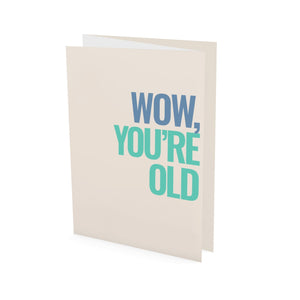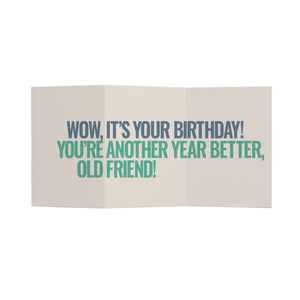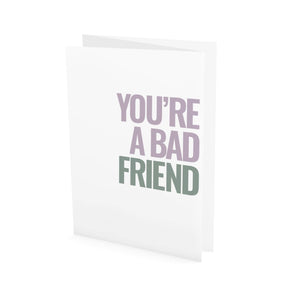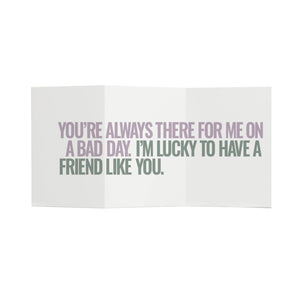 Prank-O Everyday Greeting Card 4-pack
Don't judge a card by its seemingly-mean cover. Shop this 4-pack of prank greeting cards that open up to reveal a longer, more positive message. It's a laugh for every occasion!
INCLUDES:
1 'Bad Year' Prank Greeting Card - Whether you're wishing someone a happy new year, anniversary, or just checking in, this card proclaiming that it's been "a really bad year" on the cover will crack up your recipient when they find the heartfelt message it expands into.
1 ' Thanks for Nothing' Prank Greeting Card - This thank you card may appear to be an 'unthankful' card at first glance, but your loved one will burst into laughter when they read the words of gratitude inside. It's the hilarious way to thank someone for a gift, favor, or coming to your event.
1 'You're a Bad Friend' Prank Greeting Card - Send your buddy into shock, followed by hysterics when they open up this sweet card that outwardly calls them a bad friend on the cover.
1 'You're Old' Prank Greeting Card - Add some laughter to your next birthday gift with this card that will make the celebrant think you're calling them old, only to reveal that's not the case.